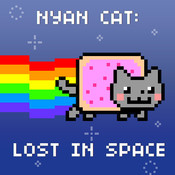 "Awesome!" - prguitarman, author of the original Nyan Cat character
WARNING! The Nyan Cat game and music are seriously addictive! Play with Nyan Cat only at your own risk!
nyan nyan nyan nyan POWERUPS nyan nyan nyan ACHIEVEMENTS nyan nyan SUPERNYAN nyan ONLINE HIGH SCORES nyan nyan RETINA DISPLAY nyan nyan nyan UNIVERSAL APP nyan BEAUTIFUL PIXEL ART nyan nyan nyan
iTunes reviews (US and UK):
"Best, game, EVAR!" - Jamiejdjdjdjdj
"This is the beat of the nyan cat games" - Crazyboy4826
"This game is pro!" - Oseycyhycyg
"I can't stop playing this Nyantastic game" - Rossw123
"cute game thats fun to play! love the art style & glad it's universal! dont like cats, but i DO love this game!" - Starscream1017
Facebook:
http://www.facebook.com/NyanCatLostInSpace
Official Nyan Cat fan page:
http://www.facebook.com/NyanCatWorld
What's New in Version 1.1
-Nyan Cat became chatty
-new Coconyan effect
-new enemy (TAC NAYN, a.k.a. TAC-9)
-better control of Supernyan and Rocketnyan
-bug fix
USER REVIEWS:
Time passing [Version: 7.0]
This game is sooooooooo addictive. I can never pull myself away. Nyan Cat ROCKS!!!!!😺😸😼
Saviigamergurl
12.27.2013.
✌️👍 [Version: 7.0]
Best game lol
<3 this game!! [Version: 7.0]
Nyan cat is SO addictive and fun. You get to play games AND take of your own nyan! I love this game, and the little furball. <3