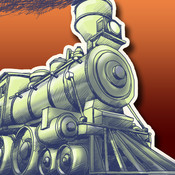 Control railway traffic without crashing any trains.
Features:
-30 challenging maps
-4 difficulty levels
-beautiful hand-drawn graphics
-online high scores
-retina display support
-multitasking support
http://facebook.com/PaperTrain
USER REVIEWS:
Great game [Version: 1.5]
Game gets more challenging as you progress.
Really fun time killer [Version: 1.5]
If you like controlling trains with a puzzle and arcade element, you'll like this one. Very fun, simple to grasp and not too hard. I also enjoy the graphics, I find them very innovative.
Great [Version: 1.5]
Well worth the money, great game,
TYPE:
Family / Simulation
COMPATIBILITY:
FULL VERSION
GAME REVIEWS: